Play the biggest, brightest Bejeweled ever!
Discover all-new ways to play the world's #1 puzzle game!
While the basics remain the same: swap two adjacent pieces to make matching rows of identical gems,
Bejeweled 3 sparkles with the powerful new Star Gem,
high-definition graphics, gameplay that's smoother than ever,
and an all-new soundtrack.
Choose Classic mode to begin your free game.
Start by swapping two adjacent pieces to create a row of three or more identical gems.
The more gems you can align, the more points you get!
Can't see a next move?
Click the HINT button for help.
You won't lose points … maybe just a little pride.
When the meter at the bottom fills, you advance to the next level!
Certain combinations unlock powerful gems, such as the
Flame Gem, the Hypercube, and now the Star Gem.
Think ahead in order to unlock them.
They'll help you clear the board and advance to the next level with dazzling speed!
Click on the MSN Logo to Buy this game.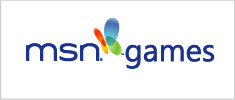 Try before you buy
Remember: if you like the game you really should buy this game
Visits: 18
Today: 0
Total: 8112