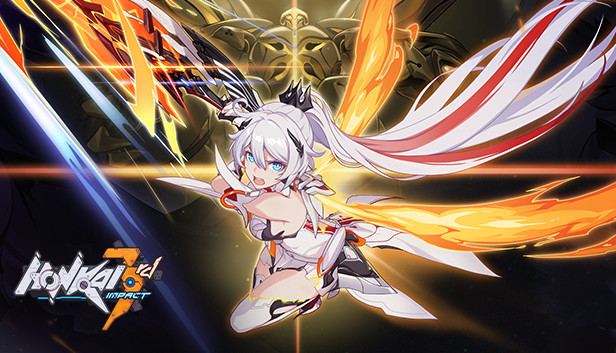 Game Introduction of Honkai Impact 3rd
Honkai Impact 3rd is a next-gen 3D cel-shaded anime action game. Experience epic stories and intense battles with Valkyries!
Honkai is the shadow of civilization that aims to exterminate it. The Will of Honkai grew with civilization until it wished to inhibit its progress, and thus created Herrschers, humanoid beings that possess unthinkable strength. To resist Honkai and save our home, you will assume the role of a Captain who commands a memorable cast of Valkyries. The bonds you forge will become your greatest weapon against Honkai!
V6.2 The Chrono and the Hare Update
New SP character Chrono Navi debuts! Play the event to get Herrscher of Thunder Character Card!
SP Character | Chrono Navi
She neither belongs to the past nor comes from the future. She is just a special traveler.
"Nice to meet you. You can call me Miss Administrator."
New SP character Chrono Navi debuts!
A MECH-type character who deals Fire DMG and flexibly throws her chakram to slash enemies. Casting Ultimate boosts Total DMG for the team.
Featured Event | Honkai Salvation Log
When you log in to the game as usual, you suddenly realize that this is not the game you've been familiar with. The only one who can be trusted is the mysterious lady who called herself Miss Administrator…
— Don't be nervous, for the story is never that serious~
Play the event to get Midnight Absinthe's new outfit Spectral Raven, Crystals, Chrono Navi Fragments and more.
Bonuses Event | Beating Thunder
Log in to the game and complete specific missions to get Herrscher of Thunder Character Card.
New Story | In the Name of the Truth
Bronya does not have any regrets as the Herrscher of Reason. After all, the only inevitable truth about humanity is that humanity's truth will change inevitably.
Story Chapter XXXIII available with the new area Final Crater as well as the new modes Remains of the Old World and Iron Mirage. Play the event to get Crystals, Chapter Stigma Option and more!
Equipment Updates | More Outfits
Unleash unprecedented power! Chakram Rudder in Dream and PRI Chakram Rudder in Dream Λ-I released!
Become the No. 1 Idol! Idol Transformation set has joined the arsenal!
Spina Astera's outfit Eternal Dance and Midnight Absinthe's outfit Spectral Raven debut!
Game Trailer
Click on the Epic logo to Claim
Honkai Impact 3rd
PC Game for Free!
If you add the game to your library within the time specified in the free game offer, the game will be permanently yours.
#Epic #Epicgames #freegame #FreeGames #freetokeep #freegamesforall #freetokeep #freepcgame #freewindowsgame #epicmysterygame #mysterygame2022