Mario Map v12.8 for ETS2 v1.40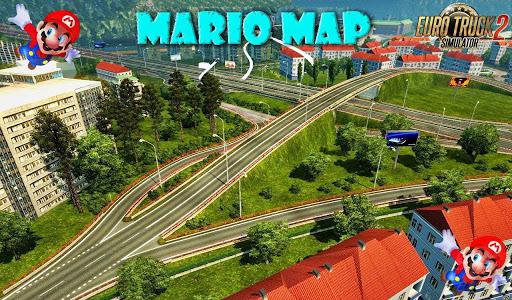 MARIO MAP For Euro Truck Simulator 2 v1.40
The Mario map includes countries and regions such as
Finland,
Norway,
Sweden,
Eastern Europe,
North Africa,
Asia,
South and North America,
and even a map of Ukraine and Russia from the Orient Express.
Each region has its own weather conditions, length of day and night,
temperature regime, as well as specific buildings, vegetation, infrastructure and much more.
For version 1.40
Authors : Mario Bogdanov, BenganJ, Renzo428, Deco13,
gmtavares, Topolino, EdgeGladiator, poland.ball, Tandem M&T
Most people ask:
Q: The map don't start.
A: The loading time of the map can be up to 5 to 20 min. Depending on your Computer Specs.
Q: Do I need a New Profile
A: No, but when you never used Mario map, I would make a new Profile.
Q: What DLC's Do I need
A: All DLC's
Instructions:
Download all Parts
Unzip all parts
Copy all Scs files to your ETS2 mod Directory
Activate them in you profile
Drive and have fun
Thank you for reading this post, don't forget to subscribe!