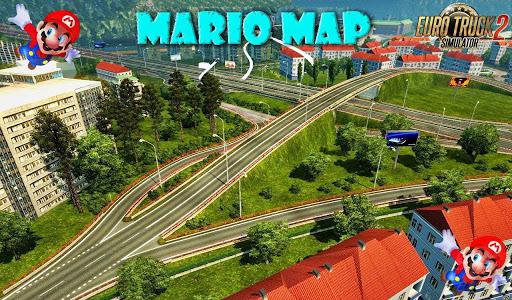 Mario Map v10.2 for ETS2 v1.15
Mario Map v10.2 and Addon" for ETS 2.
– Here is the last version of Mario Map v10.2 for Euro Truck Simulator 2, un updated version of the map, a very famous author maps – Mario Bogdanov.
Now it will appear in the latest add-ons and the latest change to the card itself.
In the game you can see not only the card, but also many other various updates.
The map includes two continents: Europe and Africa.
European countries: Norway, Sweden, Finland, England, France, Germany, Denmark, Poland, Czech Republic, Slovenia, Portugal, Spain, Greece, Italy.
African countries: Morocco, Algeria, Tunisia, Libya, Egypt (there is even a pyramid).
In six cities in Africa added railway stations and one ferry that would move quickly. But – on the map, they are not visible, and you have to find them. In some cities, there is not only the bus, but the bus stops.
Game version: 1.15.x

This map does not work with 1.16.x game version.
Instructions:
Download all Parts
Unzip all parts
Copy all Scs files to your ETS2 mod Directory
Activate them in you profile
Drive and have fun