Mario Map v10.2 for ETS2 v1.18 to 1.21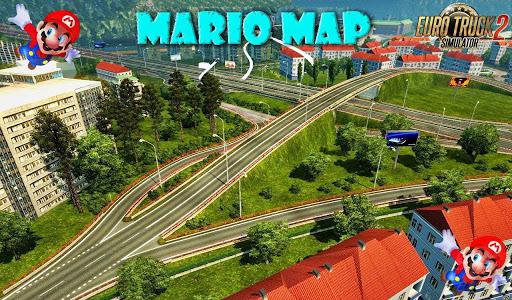 Mario Map v10.2 for ETS2 v1.18 to 1.21
Information: Tested on the game version 1.18 to 1.21+ DLC, can be combined with packages from Jazzycat
Description: Europe and Africa, European countries. Norway, Sweden, Finland, England, France, Germany, Denmark, Poland, Czech Republic, Slovenia, Portugal, Spain, Greece, Italy African countries :, Morocco, Algeria, Tunisia, Libya, Egypt (there is even a pyramid) in six cities.
New cities:
01.Chorvatsko – Zagreb (Zagreb), Sisak
02.Bosna and Herzegovina – Sarajevo
03.Jugoslávie – Belgrade (Belgrade)
04.Rumunsko – Timisoara, Bucharest (Bucharest)
05.Bulharsko – Ruse, Varna, Pleven, Lom, Lovech (Lovech), Sofia (Sofia), Elin, Pelin, Burgas, Plovdiv, Blagoevgrad, Svilengrad, Petrich (Petric)
06.Recko – Serres, Drama (Drama), Kavala, Alexandroupoli
07.Türkey – Kirklareli, Istanbul, Marmaraegelisi, Uzunkopia, Kavakkoy
And much more
Credits: Mario Bogdanov
Instructions:
Download all Parts
Unzip all parts
Copy all Scs files to your ETS2 mod Directory
Activate them in you profile
Drive and have fun
Thank you for reading this post, don't forget to subscribe!