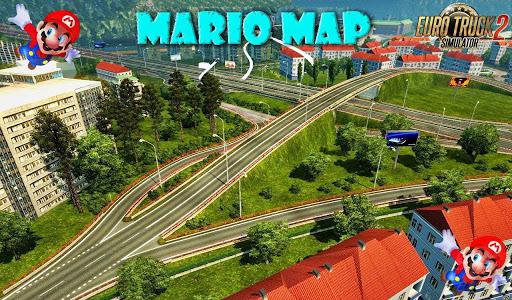 Mario Map v12.2 for ETS2 v1.26
Description:
The updated map of Mario 12.2 includes Europe, Africa, part of Russia, Ukraine, Belarus, as well as South and North America.
Includes more than 700 cities, the map is compatible with DLC France (without it does not work), so for the operation of the map you need DLC To the East and DLC Scandinavia

Includes weather mod IWR
Connect as indicated in the screenshot

Changes:
– Part of the map "South America" is reduced,
– Added Hawaii,
– Rebuilt roads in South America,
– Cities have become closer to each other,
– Increased the time of renewal of cargo,
– Reduced travel time on ferry crossings.
Need DLC Going East, Scandinavia, Vive la France.
Map tested on version 1.26 + DLC France
Map does not work without DLC – Vive la France!
Map Included:
New places and bugs fixed and some surprises in map.
You Will need both DLC's To let it work
Map Included:
– Russia
– Ukraine
– North America
– South America
– Turkey
– Europe (+ New Countries)

Credits: Mario Bogdanov
Instructions:
Download all Parts
Unzip all parts
Copy all Scs files to your ETS2 mod Directory
Activate them in you profile
Drive and have fun
(VIDEO IS FOR ETS2 v1.28 BUT THE MOD SETUP IS THE SAME!)