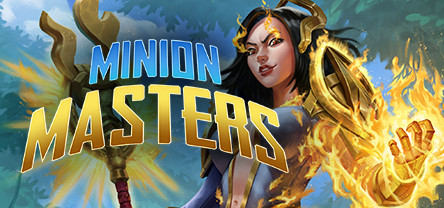 Minion Masters: The realm's greatest Masters face off in a never-ending conflict for glory. Will you play Control, Aggressive, Swarm or Giant Minions? Choose a Master matching your playstyle and build the best deck to overthrow your opponents in intense games of 2 to 6 minutes.
Join millions of players worldwide and discover one of the best ever rated F2P on Steam! Minion Masters is an insanely simple, but challenging to master online Strategic & Dynamic game both for competitive and casual players.
Play 1v1 duels or combine decks in 2v2, with full cross-play for Steam, Discord, Xbox, and more to come! Or embark on solo adventures through the different ages and conflicts of the continent. Discover the legends of the Crystal Elves, Empyreans, Zen-chi, and more!
Uprising DLC
Uprising is the Faction Box for starting or expanding your Zen-Chi faction collection. This is a great +300% value bundle of Zen-Chi cards, including the wise and electrifying Shi-hou Zensei Shen Stormstrike (Legendary!) and a head-start in this month's Season Pass!
DLC Includes:
3x Shen Stormstrike (Legendary)
5x Lightning Bolt (Supreme)
20x Zap Shrine
40x Jade Flingers
40x Blue Golem
5x Power Tokens (Get 5 extra random surprises)
3x Season Pass Tiers
Click on the Steam logo to
Get Minion Masters Incl. Uprising DLC for Free!!!
Free only before 9 Dec 2020 @ 7:00pm CET