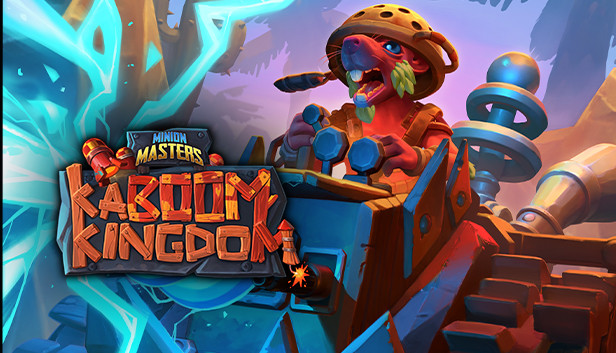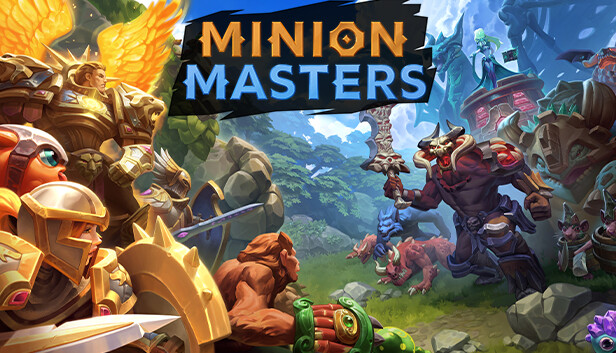 Minion Masters: 
The realm's greatest Masters face off in a never-ending conflict for glory.
Will you play Control, Aggressive, Swarm or Giant Minions?
Choose a Master matching your play style and build the best deck to overthrow your opponents in short intense games!
Join millions of players worldwide and discover one of the best ever rated free game on Steam!
Minion Masters is an insanely simple – but challenging to master – Online Strategic & Dynamic game both for competitive and casual players.
Play 1v1 duels or combine decks in 2v2 multiplayer, with full cross-play for Steam, Xbox, and more to come!
Or embark on solo adventures through the different ages and conflicts of the continent.
Discover the legends of the Crystal Elves, Empyreans, Zen-chi, and more!
INNOVATIVE ONLINE FANTASY STRATEGY WITH RPG ELEMENTS
Hold bridges to level up and unlock your Master's powers, capable of changing the fate of a game – summon swarms of Scrats, draw from the Book of the Dead or enrage your minions!
– Cards all have specific mechanics: make the right move and enable a combo to take your opponent by surprise!
Choose your cards and master from 9 factions, each with their own specialty.
Match your Master & cards together to create countless combos and tactics, only your creativity can stop.

Play your own way, come up with your own strategies and show off your skill in the arena!
TRULY FAIR-TO-PLAY & BALANCED ONLINE MULTIPLAYER
We're committed to a fair experience in which only skill matters.
In Minion Masters, you can easily earn, craft, or try to loot cards – and that's all you'll ever need to be competitive.
Anyone can take on anyone, it all comes down to YOUR skill.
This card game offers countless free rewards to help you collect over 200 minions and spells with daily quests, special events and fun game modes.
Earn new cards for free and without randomness with the free season pass!
FREE NEW EXPANSIONS & FREQUENT UPDATES
Expect new cards, gameplay mechanics, adventures, skins, arenas, and much more with free regular expansions featuring the evolving story of the continent.
Minion Masters is consistently updated to ensure balanced gameplay and new content with 2 new cards every month.
It's the result of close work between devs and the community – join the discord server and make your voice heard!

JOIN A GUILD, MEET PLAYERS, PLAY CO-OP
Take part in something that matters! Join a guild, you will always be welcomed in the tavern! 
Compete for your guild in Conquest Battles. Team up in 2v2, combine your decks to create the ultimate strategy and reach Contender rank together!
Meet players in a positive and active community.
Follow streamers on Twitch, earn prizes with drops and link your account to appear in the arena and interact in real-time with chat commands!
Massive new Co-op game from BetaDwarf
We're making a massive new co-op MMO game and will start invites for alpha testing soon, join now to get access!
FEATURE LIST
Ranked 1v1 and 2v2 full of action
Quick online battle games from 2 to 6 minutes
Beautiful graphics in this full 3D game.
Crazy modes: Draft, Mayhem, Adventures…
200+ Cards to collect from many different factions always at war
13 awesome Masters each with 3 powers, and more to come
Customizable arenas, skins, emotes, guilds…
Story mode and an evolving story
Epic fantasy lore!
Guilds and Conquest battles
Loads of free rewards
Community tournaments
Twitch prizes and events
Constant stream of new features and balance tweaks
An excited dev team
---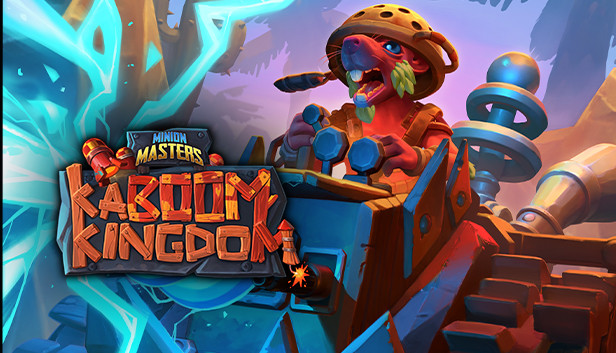 The KaBOOM Kingdom DLC is a great +300% value bundle that gives you what you
need to build your own Scrat deck, including the legendary Wreckinator 9000!
It also gives you a headstart in this month's Season Pass.
Includes:
3x Wreckinator 9000 (Legendary)
5x Boom Buggy (Supreme)
20x Scrat Tank
40x Zeppelin Bomber
40x Cannon Roller
5x Power Tokens (Get 5 extra random surprises)
3x Season Pass Tiers
Roll out the heavy machinery with this Scrat pack that lets you roll over your opponents.
Let the Mighty Wreckinator and Scrat Tank plow down smaller enemies while protecting your Boom Buggy and Cannon Roller and let them deal out the damage from safety.

With this DLC, you have the perfect Scrat kit to become King of the Scrats!
GamePlay:
Click on the Steam logo to Claim
Minion Masters + Minion Masters KaBOOM Kingdom DLC
for Free!
If you add the game to your library within the time specified in the free game offer, the game will be permanently yours.
#Steam #SteamDeals #steamgame #freegame #FreeGames #freetokeep #freegamesforall #freetokeep #freepcgame #freewindowsgame