The map rebuilds and adds cities, roads, junctions, bridges, settlements, etc. 
In the Czech Republic and the surrounding area
About 20 new cities
Redesigned existing cities
New roads and redesigned existing ones
Redesigned the western part of the Prague ring road, as well as some sections of national roads 3 and 6 leading from Prague

Changed old companies to new ones
Some preparations have been made for the extension of road 27 from the Plzen-Bory junction with the D5 motorway to the bridge

Added vegetation on road 3 from the intersection with the D1 motorway to Benesov
Part of the D1 motorway was changed from exit 21 to km 49, where a new intersection was built to enter Vlashim
New picturesque town – Dolní Dvoříšte with improved border crossing due to the real situation
Roads B125, B3 and B310 around East Linz from Linz-Steireggerbrücke to Dolní
Dvořishte were changed and a dangerous intersection was rebuilt
DLCs ​​required Going East, Scandinavia, France, Italy, Baltic and Black Sea
Not compatible with maps that change the Czech Republic.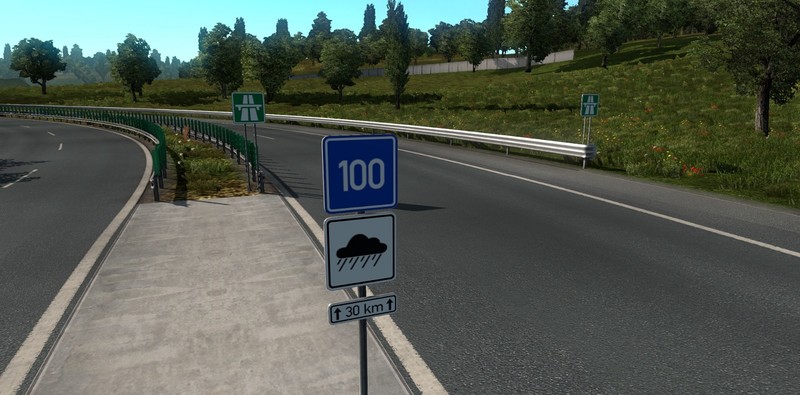 Version 1.0:
– new / rebuilt cities: Prague, Benešov, Tábor, České Budějovice
– new / rebuilt roads: D0, D1 km 0-21, D3 km 0-172 (full length), D5 km 0-14, D6 km 0-62, D7 km 0-2 D8 km 0-92, D11 km 0 -18, I / 19 Tábor North bypass I / 34 Č. Budějovice – Úsilné, II / 156, II / 157
Version 1.0.1:
– new and rebuilt towns: Mlada Boleslav
– new and reconstructed roads: D10 km 0-46
– fixed crashes in Prague garage, navigation and many other bugs.
Version 1.1:
– new and reconstructed towns: Hradec Kralove, Pardubice, Nachod, Velki Osek.
– new and reconstructed roads: D11, D35, I / 33, I / 36, I / 37
– error correction
For version 1.42.x
Author : ItzHonzula